It was December 16, 2020 when I spotted an advertisement for a Stubenflohmi a.k.a. a parlour flea market. What caught my attention was a photograph of a basketful of leather and textile rolls, as I am always on the lookout for deadstock fabrics and vintage leather for my projects.
I immediately sent out a message. The lady who texted me back seemed very keen, kind, and thoughtful. It would be the first Christmas of the pandemic, and I was still not seeing anyone, I wanted to make sure I would not be venturing out for nothing, and that there would indeed be some leather available to buy. She not only assured me that there would be plenty of stock, but she would also let me in before the opening time, so that I could browse in peace without other people present.
---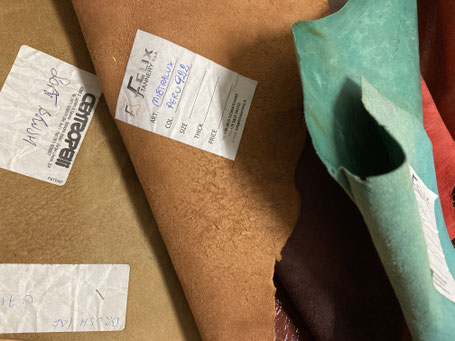 Three days later I was ringing her doorbell.
A striking woman in her sixties welcomed me to her home, all long white hair, flowing dress, and handmade suede slippers. Her name was Erika.
She led me down to a huge bright room, which I can only describe as Aladdin's cave!
Rolls of luxurious italian leather, basketfuls of fur cut-offs, buttons and embroidered ribbons, beads and brooches, sequinned clothes patches, handmade goldwork pieces, fabrics, jewelry, yarns, and a ton of artist materials, paints, brushes, and canvases.
I had surely died and gone to crafter's heaven!
---
We got to talking, I was curious as to how she had gotten to accumulate such a huge collection of beautiful things.
It turned out she was one of 8 children born to artisan parents.
All of the family members had artistic inclinations one way or another. 
One was a painter, one was a shoemaker, one was a tailor, her mother was a knitter/crocheter, another was working with leather and fur making vests and moccasins -as was herself. They were all making a living through arts and crafts.
A jack of many trades, Erika was also designing costumes for the theatre and the circus (hello sequins!)
She had been traveling around the world for years, and once in India, she started her own haberdashery business, importing embroidered ribbons, mirrored patches, and other such goodies to Switzerland.
---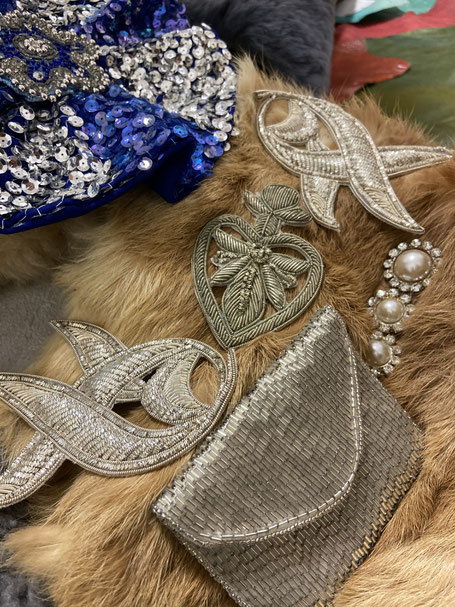 Do you recognise the beautiful vintage coin purse to the right?
It is now her namesake necklace, Erika!
---
I absolutely love stories, and I was fascinated with Erika's life story.
Meeting her at that time, after being in self-isolation for so long, made me realise how thirsty I was for human contact. I could have stayed in that room for hours!
Sadly Erika's mother and brother had passed away the previous year, and she had accumulated way too much of their belongings. The house was filled to the brim with treasures, but also with memories, and space needed to be made for her daughters (also artisans!) and her newborn grandchild.
---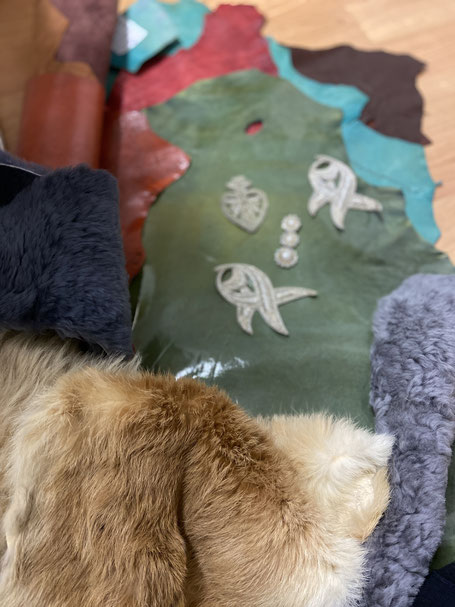 Some of the items I bought were truly beyond vintage, borderline antique, dating 80 years or more, such as the gorgeous beaded coin purse.
I have already been working with some of this material, eagerly on one hand, cautiously on the other; they are almost too precious to handle, and too hard to part with! 
A very select few are shown in these photos, the rest will be slowly revealed as they are rethought and transformed to wearable art.
The beauty of vintage, the beauty of handmade. They come with history, they have a story to tell, and they speak of unique people;
the ones who owned them,
the ones who create them,
and the ones who now make them their own: You!
---
---
ERIKA
Hand beaded coin purse/ necklace. All vintage elements. Crystal beads, rhinestones and mini pearls, chain. silk satin interior.
Size approximately 9x7cm.
ERIKA. Vintage beaded mini coin purse.
Available
Ships within 1-3 days
---