Wouldn't it be nice if we all had seven lives? And how great would it be if we could travel through time and space, in and out of the greatest times in history? And what if we could perpetually change and transform, to improved, better versions of ourselves?  
Wishful thinking for us humble humans, but we can surely live vicariously through our jewelry!
---
This is the story of a little necklace, that has travelled through time and space, and is currently enjoying its second life, in a much different and improved state. Meet DIBBA!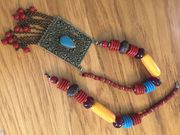 DIBBA and I first laid eyes on each other in the summer of 1996.
It was love at first sight!
I had just arrived in Dubai, and everything was new and exotic and wonderful. I was at an indoor market, a souk, and this necklace caught my eye.
Chatting to the  owner I found out that he had made it himself, like everything else in his little shop.
He was a merchant travelling through India, Pakistan, Iran, Yemen, Tibet, Nepal, Afghanistan, Tunisia and Morocco, collecting all kinds of different elements, old and new, and putting them all together back home in Dubai, to sell in his shop. I still remember his broken English, his gentle smile, and the joy I felt acquiring something so unique and so special!
---
Now mind you, back in the 90's the idea of bling was a very different story. The word 'boho" had not yet been invented, and statement jewelry were non-existent. This was not a fashionable piece, it was exotic and different and 'out there', and right up my alley. 
It served me right for a number of years, and it sure has been a conversation starter.
But the more I travelled and the longer I lived in Arabia, the less exotic it became. And in the recent years with the widespread concept of 'boho' style jewelry -made in China, of course-  its style somehow lost its originality. So, it had remained in my drawer for a while, mainly as a sweet memento.
Until I recently opened it, and saw that it had come apart.
How did this even happen, I hadn't worn it in years! Was it divine intervention? Was the necklace crying out to me?
---
Yes! Dibba was in a dire need for a makeover and was calling me for help!
"Old loves go to heaven" a Greek song states, but no, not this one, this one would rise from the ashes like the proverbial phoenix, and would be unique, and fabulous, and 'out there' once again. 
---
a labor of love
Tap on the first photo for captions explaining the process.
---
Just changing the color scheme of the central element already made a huge difference! The turquoise bead, now looks like a lava stone.
Silver and turquoise is a classic combination in ethnic jewerly, but almost to the degree of looking generic. Gold brought out the light, and accentuated the filigree pattern. This particular hue is reminiscent of historical jewelry, Byzantine or ancient Greek, and it's the exact shade featured in Arabian gold souks, and traditional 14 karat gold Indian jewelry. The magic of this transformation is the definite ethnic vibe, but the ambiguous origin of the piece. It could easily be an Anglo-Saxon medieval pendant or a Punjabi bridal ornament.
(You know the drill, tap for captions, isn't technology grand?)
After all had dried and set it was time for phase two.
A lovely bat-sleeve 80's jacket was my source of vintage nappa leather. The shape I was aiming for was drawn, cut, and fixed into place with specialty glue.
A long fringed trim was hand-stitched in place,  reclaimed from my friend Penelope's kaftan (the gift that keeps on giving, as it's the second piece of jewelry I use it for).
I then measured and traced the shape once again -the tracing paper was a recycled A4 sheet (second life is the motto here). The leather was backed with a mushroom coloured microfibre textile, so comfortable against the skin!
Doubling nappa leather renders it stronger, it also prevents the leather dyes from rubbing off on light clothes.
Fixed in place and trimmed to perfection, the edges were then finished off with a touch of black fabric paint.
---
Hello grommets, bye bye grommets! Trial and error,  constant editing and adjustments, are always part of the process. I added these grommets but although they were the perfect size and color, I didn't like how they stood out and drew attention away from the central piece. So they got the chop! I wanted this necklace to have a minimalist-ethnic vibe, and be clean of any extra ornaments.
---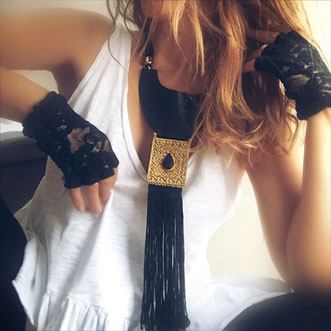 Et voilà! A braided cord with adjustable chain was added, and a test shot was made. That is me in the atelier a few minutes after finishing it off. (Yes, I often wear fingerless gloves when I am working, they are comforting and still allow freedom of movement. Plus, they look fab!)
So that was just a simple t-shirt and cotton leggings I had on, but enter a statement necklace and I could just head out into the day... or night! The power of accessories, right?
---
I am crazy about the new look of this old timer! It is once again relevant, bold, strong.
I love how it offers a completely modern interpretation of ethnic, keeping both the vintage character of the original piece, and a sleek minimalist vibe. Still unique, still a conversation starter, only now it is me the merchant with the broken English accent, and the -hopefully- gentle smile :))
DIBBA
Vintage reclaimed metal pendant, vintage nappa leather, reclaimed fringe trim, braided cord.
DIBBA vintage metal filigree necklace.
Available
Ships within 1-3 days